Number 10 is..
Goomba
Goomba. Such a small but annoying Enemy. Although not a big, fire breathing villain, Goombas still annoy every players that have played a Mario game. What would Mario be without goombas?
Number 9 is..
Meta Knight
Meta Knight! Who is he? Why is he so amazing in SSB? No one knows anything about this guy except he is bad*** and he has a Sword.
Number 8 is..
Red
One Of the Highest-Leveled Trainers in all of Pokemon, beating him is never easy. His level 88 Pikachu is the Death of you. Best part about him is- He Doesn't say anything. It's just "Let's Battle".
Number 7 is..
Metroid
No, Not the Game. Those creepy things from All Metroid games that latch onto you and Suck the life out of you. Sorry for the Nightmares.
Number 6 is..
Pac-Man Ghosts
The Pac-Man Ghost. The only thing that can kill some creepy Yellow thing that eats everything. Maybe these guys aren't Villians.
Number 5 is..
Wheatley
Ah,Wheatley. He was so Awesome Until he Betrays you and goes mad. Then he's even awesomer, but It's a shame he is in space. Not because he is in space, but because of the Space core with him.
Number 4 is..
Bowser
Bowser- Here is his definition- A (removed By admin) Dragon-Turtle-Dinosaur thing that Breaths fire and sits on you in almost every Mario game.
Number 3 is..
Ridley
Ridley?! Yea, It's Ridley. The evil Partner in Crime of Mother Brain. Breathes fire, has a razor sharp tail, and loves to scrape you against a wall. And Oh,Yea- He Can't die and his Life goal is to kill you.
Number 2 is..
Vladmir Makarov
Makarov. The Killer. The terrorist. Kidnapper of President. "Kingfish". He is jsut so Boss. Weilded with his trusty M4 and Magnum, he will do anything to destroy the US, followed by Russia, followed by the World. He started WWIII, Nuked a Country, and Killed an Undercover agent. That Last one doesn't sound so bad, but you're the agent.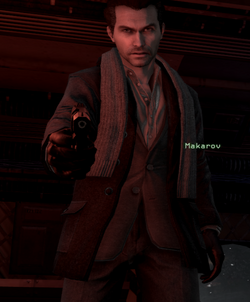 "Remember...No Russian."
Number 1 is..
GLaDOS
The name just makes you shiver. The evil, corrupt AI from Portal and Portal 2. If you play the games, you will discover how evil and corrupted she really is.